Production Profile by Project - 5 Year Growth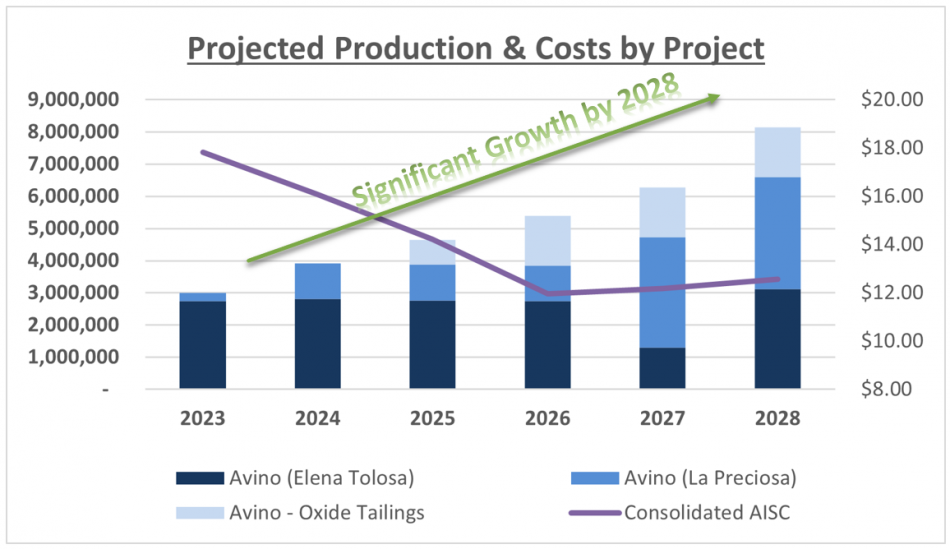 The annual production presented is based on internal estimates and current plans which are subject to change. Silver equivalent ounces figures used to show production by project are calculated based on metal price assumptions of $20.00/oz Ag, $1,700/oz Au, and $3.63/lb Cu.
* CAUTIONARY DISCLAIMER: FORWARD-LOOKING STATEMENTS
This graph contains "forward-looking information" and "forward-looking statements" (together, the "forward looking statements") within the meaning of applicable securities laws and the United States Private Securities Litigation Reform Act of 1995, including the amended mineral resource estimate for the Company's Avino Property, including La Preciosa, located near Durango in west-central Mexico (the "Avino Property"), with an effective date of November 30, 2022, prepared for the Company, and references to Measured, Indicated, Inferred Resources referred to in this presentation. These forward-looking statements are made as of the date of this presentation and the dates of technical reports, as applicable. Readers are cautioned not to place undue reliance on forward-looking statements, as there can be no assurance that the future circumstances, outcomes or results anticipated in or implied by such forward-looking statements will occur or that plans, intentions or expectations upon which the forward-looking statements are based will occur. While we have based these forward-looking statements on our expectations about future events as at the date that such statements were prepared, the statements are not a guarantee that such future events will occur and are subject to risks, uncertainties, assumptions and other factors which could cause events or outcomes to differ materially from those expressed or implied by such forward-looking statements. No assurance can be given that the Company's Property nor the La Preciosa Property have the amount of the mineral resources indicated in their reports or that such mineral resources may be economically extracted.
Such factors and assumptions include, among others, the effects of general economic conditions, the prices of gold, silver, and copper, changing foreign exchange rates and actions by government authorities, uncertainties associated with legal proceedings and negotiations and misjudgments in the course of preparing forward-looking information. In addition, there are known and unknown risk factors which could cause our actual results, performance or achievements to differ materially from any future results, performance or achievements expressed or implied by the forward-looking statements. Known risk factors include risks associated with project development; the need for additional financing; operational risks associated with mining and mineral processing; fluctuations in metal prices; title matters; uncertainties and risks related to carrying on business in foreign countries; environmental liability claims and insurance; reliance on key personnel; the potential for conflicts of interest among certain of our officers, directors or promoters with certain other projects; the absence of dividends; currency fluctuations; competition; dilution; the volatility of our common share price and volume; tax consequences to U.S. investors; and other risks and uncertainties. Although we have attempted to identify important factors that could cause actual actions, events or results to differ materially from those described in forward-looking statements, there may be other factors that cause actions, events or results not to be as anticipated, estimated or intended. There can be no assurance that forward-looking statements will prove to be accurate, as actual results and future events could differ materially from those anticipated in such statements. Accordingly, readers should not place undue reliance on forward-looking statements. We are under no obligation to update or alter any forward-looking statements except as required under applicable securities laws. We are under no obligation to update or alter any forward-looking statements except as required under applicable securities laws. For more detailed information regarding the Company including its risk factors, investors are directed to the Company's Annual Report on Form 20-F and other periodic reports that it files with the U.S. Securities and Exchange Commission.
References to Measured & Indicated Mineral Resources and Inferred Mineral Resources in this press release are terms that are defined under Canadian rules by National Instrument 43-101 ("NI 43-101"). U.S. Investors are cautioned not to assume that any part of the mineral resources in these categories will ever be converted into Reserves as defined under SEC Industry Guide 7.
The Company has not based its production decisions on a feasibility study or mineral reserves demonstrating economic and technical viability, and as a result there is increased uncertainty and there are multiple technical and economic risks of failure, which are associated with these production decisions. These risks, among others, include areas that would be analyzed in more detail in a feasibility study, such as applying economic analysis to resources and reserves, more detailed metallurgy, and a number of specialized studies in areas such as mining and recovery methods, market analysis, and environmental and community impacts.
Cautionary Note to United States Investors - The information contained herein and incorporated by reference herein has been prepared in accordance with the requirements of Canadian securities laws, which differ from the requirements of United States securities laws. In particular, the term "resource" does not equate to the term "reserve". The U.S. Securities and Exchange Commission's (the "SEC") disclosure standards normally do not permit the inclusion of information concerning "measured mineral resources", "indicated mineral resources" or "inferred mineral resources" or other descriptions of the amount of mineralization in mineral deposits that do not constitute "reserves" by SEC standards, unless such information is required to be disclosed by the law of the Company's jurisdiction of incorporation or of a jurisdiction in which its securities are traded. Disclosure of "contained ounces" is permitted disclosure under Canadian regulations; however, the SEC normally only permits issuers to report mineralization that does not constitute "reserves" by SEC standards as in place tonnage and grade without reference to unit measures.