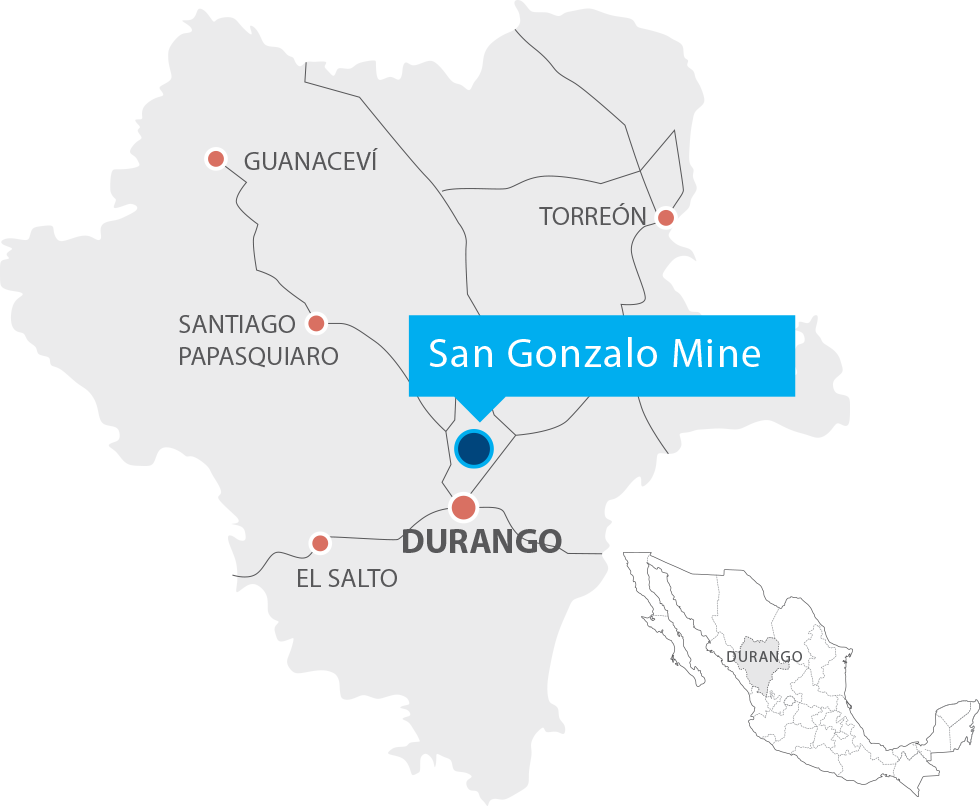 The San Gonzalo Mine is located approximately 2 km North East from the original Avino mine and beneath the shallow workings of an old mine from the colonial period. It constitutes a strongly developed vein system over 25 m across, trending 300 to 325 degrees, dip 80 NE to 77 SW. The original underground workings extend over an area approximately 150 m along strike and 136 m in depth.
Operations
The San Gonzalo Mine is an underground operation that uses both shrinkage stoping and cut and fill mining methods to extract mineralized material. Once mineralized material has been broken from the stopes, it is transported to the surface and trucked 2 km to the mill where it waits to be processed.
A 250 tonne per day bulk flotation circuit (Mill Circuit 1) at the processing plant is then used to produce a bulk concentrate that contains silver, gold, lead and zinc. The concentrate is then transported to Manzanillo, Mexico on a monthly basis where it is shipped and sold.
Operations
On October 1st 2012, Avino commenced Commercial Production at the San Gonzalo Mine. Operations are ongoing but are expected to wind down in 2019 as the mine approaches the end of its life; comparative figures for 2016 through 2018 are presented below:
| | | | |
| --- | --- | --- | --- |
|   | 2018 | 2017 | 2016 |
| Total Mill Feed (dry tonnes) | 79,140 | 81,045 | 108,943 |
| Feed Grade Silver (g/t) | 222 | 269 | 267 |
| Feed Grade Gold (g/t) | 1.03 | 1.32 | 1.25 |
| Recovery Silver (%) | 77% | 84% | 83 |
| Recovery Gold (%) | 75% | 78% | 74 |
| Total Silver Produced (Kg) | 13,500 | 18,375 | 25,588 |
| Total Gold Produced (g) | 60,800 | 83,215 | 106,599 |
| Total Silver Equivalent Produced (oz)¹ | 592,098 | 789,157 | 1,073,062 |
1 Metal Production is expressed in terms of silver equivalent ounces, (oz Ag Eq.), the formula for which depends on the gold and silver metal prices used in each year and hence are only indicative. In 2018, AgEq was calculated using metals prices of $15.71 oz Ag, $1,270 oz Au and $2.96 lb Cu. In 2017, AgEq was calculated using metals prices of $17.05 oz Ag, $1,258 oz Au and $2.80 lb Cu.In 2016, AgEq was calculated using metals prices of $17.10 oz Ag, $1,248 oz Au and $2.21 lb Cu. In 2015, AgEq was calculated using $16 oz Ag, $1,150 oz Au and $3.00 lb Cu
Resource Estimates
In February 2018, Avino announced the results of an updated resource estimate for the Avino property. The updated estimate encompasses the Property's San Gonzalo Mine, the Avino Mine vein systems, and the Property's Oxide Tailings. The mineral resources estimate has been included in an updated technical report prepared by Aranz Geo Ltd. under National Instrument 43-101 ("NI-43-101"), which was filed on SEDAR under the Company's profile on April 6, 2018. For More information see Avino's press release dated February 21, 2018.
Exploration
Avino will continue to explore around the San Gonzalo Mine as well as other high-potential targets on the property to expand known resources. Historic near- to-surface mining on the property has left many clues as to where mineralization hot spots are located. Using modern technology to integrate, manage and interpret more than 80 km of Induced Polarization (IP) Geophysics, 1,500 soil samples, satellite imagery, data from ongoing drilling and historic data, the company is seeking to define new high potential targets that were not visible or accessible in the past.
Avino owns both a surface and underground drill and conducts the drilling internally. The surface LY-44 drill was recently fully rehabilitated with replacement components to make it more powerful; it now has a capacity of 800 metres using an NQ drill hole diameter.
Qualified Person
Avino's Mexican projects are under the supervision of  Peter Latta, P.Eng, MBA, Senior Technical Advisor, Avino and Jasman Yee P.Eng, Avino Director, both of whom are qualified persons within the context of National Instrument 43-101 and have reviewed and approved the technical data herein.
Under National Instrument 43-101, the Company is required to disclose that it has not based its production decisions on NI 43-101-compliant reserve estimates, preliminary economic assessments, or feasibility studies, and historically projects without such reports have increased uncertainty and risk of economic viability. The Company's decision to place a mine into operation at levels intended by management, expand a mine, make other production-related decisions, or otherwise carry out mining and processing operations is largely based on internal non-public Company data, and on reports based on exploration and mining work by the Company and by geologists and engineers engaged by the Company. The results of this work are evident in the Company's discovery of the San Gonzalo resource, and in the Company's record of mineral production and financial returns since operations at levels intended by management commenced at the San Gonzalo Mine in 2012. This approach is being applied for the advancement of the Avino Mine project, for which similar risks and uncertainties have been identified.