La Preciosa is located in the state of Durango, Mexico, within the municipalities of Pánuco de Coronado and Canatlán, and is approximately 85 km by existing road, northeast of the city of Victoria de Durango, the state capital. A new access road is anticipated to be constructed which would reduce this to a distance of 50 km and a time of 45 minutes.
The Project is situated on the eastern flank of the Sierra Madre Occidental mountain range. It can be found on the Instituto Nacional de Estadística, Geografía e Informática General Carlos Real Topographic
La Preciosa is a development stage mineral property, hosting one of the largest undeveloped primary silver resources in Mexico, and is located adjacent to Avino's existing operations at the Avino Property in Durango, Mexico. The property covers an area of approximately 1,134 hectares and is located on the eastern flank of the Sierra Madre Occidental mountain range.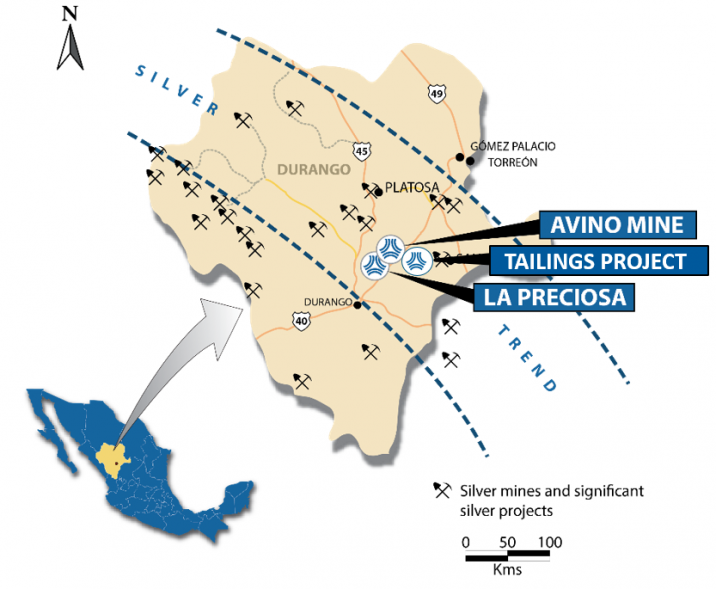 Mineralization
Mineralization at the Project is hosted within multiple discrete poly-phase quartz veins, often displaying banded, smoky, drusy, and chalcedony textures. Also, in each stage there is variably crustiform banded fracture fill/breccia cement mineralogy. Fluorite, amethyst, a substantial number of barite laths, calcite, and rhodochrosite may also be present, and sulfide mineralization in the form of sphalerite, galena, pyrite, chalcopyrite, acanthite, sparse native silver, and free gold, as well as iron and manganese oxides have been noted in drill core. The principal silver bearing mineral at the Project is acanthite-pseudomorphic after argentite or as microcrystalline to amorphous grains.
The main vein system on the Abundancia ridge consists of dominantly southward-striking and westward-dipping veins plus east-southeast–striking, south-dipping crosscutting veins. The Abundancia ridge vein system has been traced on surface for over 1.5 km. In the eastern part of the Project, a north- to northwest-striking, shallow west dipping vein system with associated hanging wall veining and alteration is exposed in a series of hills. This vein system is referred to as the Martha vein or fault zone and has been traced by drilling for over 2.5 km along strike.
The mineralization in the area occurs in veins, veinlets, and stockwork. These veins average in true width less than 15 m (Martha Vein) and consist of several stages of banded crustiform to colloform, quartz (and cryptocrystalline quartz at shallow depths), adularia, barite, and typically later carbonates (both calcite and rhodochrosite); illite commonly replaces the adularia. There are variable amounts of pyrite, sphalerite, and galena plus argentite, and variable amounts of tetrahedrite - tennantite, freibergite, and Ag sulfosalt.
The mineralization displays characteristics typical of epithermal veins in Mexico, particularly of the Ag-rich variety.
Quartz veins are accompanied by adularia, barite, calcite, rhodochrosite of variable timing, as well as acanthite, freibergite, Ag sulfosalts and minor electrum, plus variable amounts of pyrite, honey-colored sphalerite, tennantite/tetrahedrite, chalcopyrite and galena, and supergene Fe and Mn oxides; the hypogene minerals are characteristic of intermediate-sulphidation deposits in Mexico. Mineralization is believed to be Tertiary in age both the Lower Volcanic Supergroup (LVS) and Upper Volcanic Supergroup (UVS) are mineralized, but the basalts are recent and not mineralized.
The Martha vein is the largest vein in the deposit, with at least three times the volume of the next largest vein, La Abundancia. The Martha vein dips ~20-30°, following the southwest-dipping contact of volcaniclastic rocks overlying an immature conglomeratic unit (consisting mainly of polylithic clast-supported fragmental rock with angular to sub-rounded clasts) or the underlying schist.
There are steep-dipping veins in the west on the ridge, such as La Gloria vein. These steep veins can be considered as a mineralized zone or lode of stock work, silicification, breccias, veins, vein breccias, veinlets, and a general mix of multiple styles of mineralization. Within this broader zone, for example the Martha lode ranges from 1 to 35 m thicknesses and averages approximately 5 m.