The Oxide Tailings deposit comprises historic recovery plant residue material deposited during the earlier period of open pit mining of the Avino Vein, when there were poor process plant recoveries for silver and gold. The oxide tailings are partially covered by younger unconsolidated sulphide tailings on the northwest side of the property.
Avino Silver & Gold Mines Ltd. announced an updated mineral resource estimate for the Company's Avino Property on February 16, 2023, with an effective date of November 30, 2022. The updated estimate includes the Property's Avino Mine (Elena Tolosa – "ET") deposit, the San Gonzalo deposit, and the Property's Oxide Tailings. Inaugural mineral resource estimates have also been included on the Guadelupe and La Potosina deposits. The mineral resources estimate has been included in an updated technical report prepared by Tetra Tech Inc. under National Instrument 43-101 ("NI-43-101"), which is available on SEDAR (www.sedar.com) under the Company's profile and filed on Form 6-K with the SEC. The technical report can also be found on our website here.
Oxide Tailings Highlights (Comparisons are to 2020 Mineral Resource Estimate on the Avino Property) - Can be viewed in the tables below
5.7 million tonnes of measured and indicated mineral resources, an increase of 407%
17.4 million measured and indicated silver equivalent ounces, an increase of 287%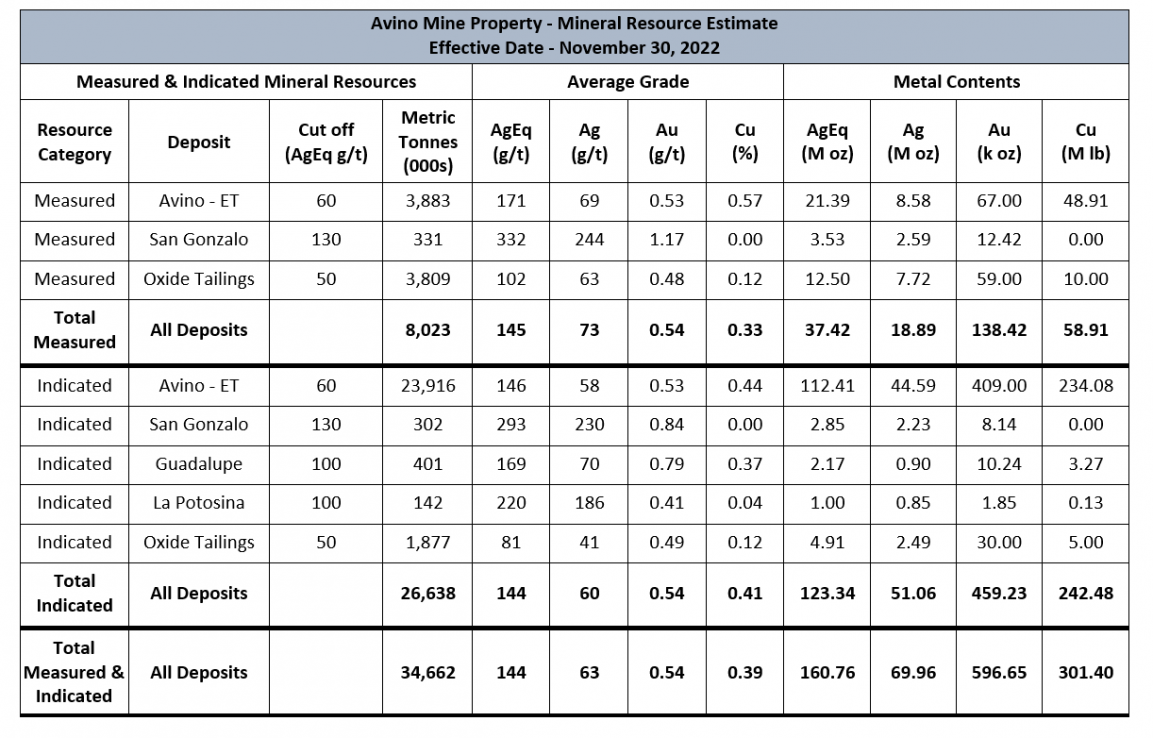 Figures may not add to totals shown due to rounding. All ounces are troy ounces.
Mineral Resources that are not Mineral Reserves do not have demonstrated economic viability.
The Mineral Resource estimate is classified in accordance with the Canadian Institute of Mining, Metallurgy and Petroleum's (CIM) Definition Standards for Mineral Resources and Mineral Reserves incorporated by reference into National Instrument 43-101 (NI 43-101) Standards of Disclosure for Mineral Projects.
Based on recent mining costs Mineral Resources are reported at AgEq cut-off grades of 60 g/t, 130 g/t, and 50 g/t for ET, San Gonzalo, and Oxide Tailings, respectively. The cut-off grades for Guadalupe and La Potosina are 100 g/t.
AgEQ or silver equivalent ounces are notional, based on the combined value of metals expressed as silver ounces.
The silver equivalent was back-calculated using the following formulas:

ET, Guadalupe, La Potosina: AgEq (g/t) = Ag (g/t) + (71.43 x Au (g/t) + (113.04 x Cu (%))
San Gonzalo: AgEq (g/t) = Ag (g/t) + (75.39 x Au (g/t))
Oxide Tailings: AgEq (g/t) = Ag (g/t) + (81.53 x Au (g/t))

Cut-off grades were calculated using the following consensus metal price assumptions: gold price of US$1,800/oz, silver price of US$21.00/oz, and copper price of US$3.50/lb.
Metal recovery is based on operational results and column testing.
The Qualified Persons as defined by NI 43-101, who are responsible for the technical content appearing on this page are Michael O'Brien P.Geo., Senior Principal Consultant, Red Pennant Geoscience, and under the supervision of Peter Latta, P.Eng, Avino's VP, Technical Services, both of whom are qualified persons within the context of NI 43-101.
On April 5, 2023 Avino annouced favourable Metallurgical Results from the Oxide Tailings Project
On April 5, 2023, Avino announced metallurgical results from the testwork program on its oxide tailings project ("Oxide Tailings" or the "Project"). You can view the news release here. The Project hosts gold and silver from past producing historic operations in an inactive tailings facility located on the Avino property with a 5.7 million tonnes of measured and indicated resource grading 95 g/t of silver equivalent. Historically, near surface oxidised material was not recovered well by Avino's conventional flotation mill, which has created this opportunity for re-processing the tailings with a cyanide leaching process.
These results will form the basis for the metallurgical analysis of a Pre-Feasibility Study ("PFS") on the Project.
The table above shows a comparison between the 2021 and 2023 mineral resource estimate on the Oxide Tailings as contained in the respective technical reports which can also be viewed on Avino's profile on SEDAR.
"We are very pleased with these metallurgical results, which demonstrate excellent metal recoveries that would be suitable for a precipitating into bullion," commented CEO David Wolfin. "Metallurgy is an important component in understanding the potential economics of our Oxide Tailings project. This Project has been in our portfolio for many years and factors prominently into our five-year growth plan to become an intermediate silver producer in Mexico. These results also build on the work done in 2017 Preliminary Economic Assessment ("PEA") and increase the level of confidence in the Project from the extensive testwork completed. When comparing the most recent mineral resource estimate to the one completed in 2021, we see in the measured and indicated category an impressive 408% increase in tonnage, as well as a 287% increase in AgEq ounces. The potential of the Oxide Tailings resource has been known for many years but buried under the active tailings dam. With the new state of the art Dry-Stack Tailings facility now fully operational, we can advance the oxide tailings project to the prefeasibility study level. These results along with the ongoing testwork program will allow us to make sound decisions on the processing route to maximize the project value."
On April 11, 2017, Avino announced that it had completed an updated Preliminary Economic Assessment ("PEA") for re-treatment of the Avino mine tailings in Durango, Mexico, which includes results from the Company's recent 2016 Resource Estimate (see news release dated September 26, 2016) for the Avino property which included the San Gonzalo Mine, the main Avino Mine system, and the property's Oxide Tailings. The PEA was prepared in accordance with National Instrument 43-101, and a compliant Technical Report was completed by Tetra Tech Canada Inc. ("Tetra Tech"), and filed on SEDAR and with the U.S. Securities and Exchange Commission. All currency values below are presented in US$.
The Company cautions that the PEA is preliminary in nature in that it is based on Inferred Mineral Resources which are considered too speculative geologically to have the economic considerations applied to them that would enable them to be characterized as mineral reserves, and there is no certainty that the PEA will be realized. Mineral resources that are not mineral reserves do not have demonstrated economic viability.
Highlights of the Oxide Tailings Preliminary Economic Assessment
Significant pre-tax NPV8% of US$40.5 million
Strong pre-tax IRR of 48.4%
2 year pay-back period
Total capital expenditures of US$28.5 million
7 year mine life with LOM of 3.12 million tonnes of oxide tailings materials
The April 11, 2017 Technical Report can be viewed here.
Avino's projects are under the supervision of Peter Latta, P.Eng, MBA who is a qualified person within the context of National Instrument 43-101 and has reviewed and approved the technical data herein.