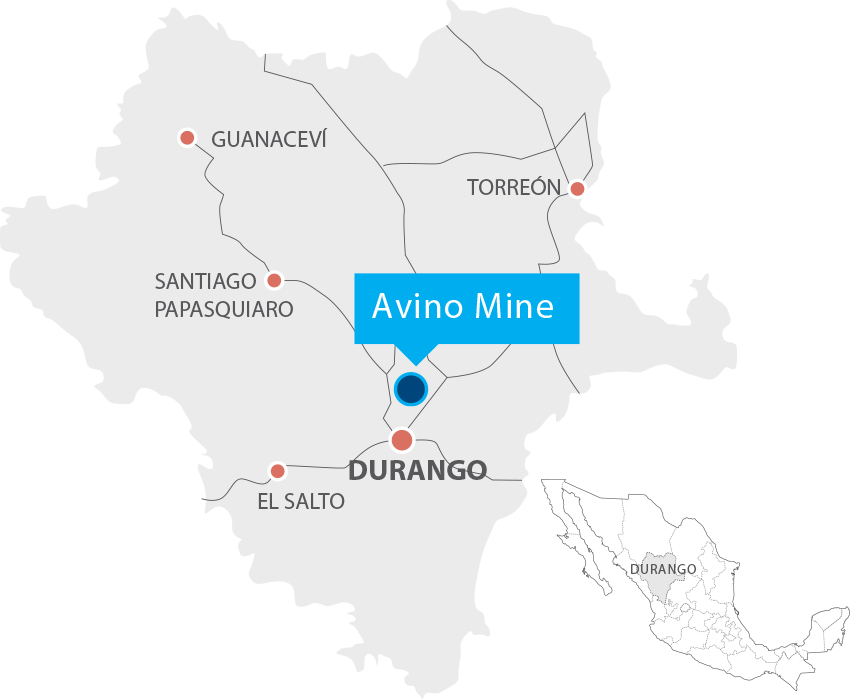 The Avino Vein was mined during 27 years of open pit and underground production prior to 2001. It is 1.6 km long and 60 m wide on the surface and is situated right next to the processing plant. The deepest level mined prior to 2001 was level 11.5 (330 m below the surface). The mine was closed in November 2001 due to low metal prices (Silver US$4.37/oz, Gold US$283/oz, Copper US$0.65/lb) and the closure of a key smelter. From 1997 - 2001, the mine and mill, averaged 1,000 tpd and achieved up to 1,300 tpd. During the final 3 full years of operation, production averaged 1.7 million ounces of silver equivalent annually. For more on the history of the Avino Mine click here.
Following several years of redevelopment, the Company completed its Avino Mine and mill expansion in Q4 2014. Full scale underground operations commenced at the Elena Tolosa area of the mine on January 1, 2015, and commercial production was declared effective April 1, 2016 following a 19-month advancement and test period. Mineralized material from Elena Tolosa is processed into a copper –silver-gold concentrate using one of four bulk floatation circuits (Mill Circuit 3) at Avino's on site processing plant at the rate of 1,000 tonnes per day (TPD).
In 2018, Avino completed an expansion to its processing plant with the addition of a fourth bulk flotation circuit (Mill Circuit 4) rated at 1,000 TPD; increasing the combined throughput capacity of the plant to 2,500 TPD.
Avino Mine, Mexico

Operations - 2021
2021 Fourth Quarter Highlights
Strategic Acquisition of La Preciosa Silver Project from Coeur Mining Inc: On October 27, 2021, the Company announced that it has entered into a definitive agreement (the "Agreement") with Coeur to acquire the La Preciosa silver project, which is located adjacent to the Avino Mine in the state of Durango, Mexico, for upfront consideration of $29.7 million on closing and $5 million due within 12 months of closing. Further contingent consideration including cash, royalties and a mineral reserve discovery payment. The transaction closed during Q1 2022.
Mining Operations Resumed at Avino Mine:  On August 3, 2021, the Company announced that mining operations have officially restarted at the Avino Mine. During H2 2021, mining activities continued to ramp up and the Company is confident that ramp up activities will continue throughout 2022.
Increased Avino Mine Underground Operations: Underground mining operations continue to increase capacity. During Q4 2021, haulage increased by 56% compared to Q3 2021, and averaged over 1,500 tonnes per available day in December.
Increase in silver feed grades from the Avino Mine: Silver grade increased by 11% compared to Q3 2021.
Increase in consolidated recovery rates: Silver and copper recovery rose by 3% and 5%, respectively, compared to Q3 2021.
Avino Production Highlights for Q4 2021 (Compared to Q3 2021)
Silver equivalent production increased 101% to 541,432 oz*
Silver production increased by 139% to 163,933 oz
Copper production increased by 68% to 1.1 million lbs
Gold production increased by 92% to 2,158 oz
Mill throughput increased by 118% to 103,513 tonnes
Mine haulage increased by 56% to 110,553 tonnes
Operations - 2021
2021 Third Quarter Highlights
Avino Mine successfully recommenced operations:  Underground mining operations are now hauling between 1,000 and 1,500 tpd to surface on a daily basis, with the mill operating at a similar capacity. The Company is working towards achieving pre-shutdown levels of mine and mill production. Current plant capacity remains at 2,500 tpd.
Increase in overall feed grades from the Avino Mine: Silver, gold and copper grades increased by 16%, 138% and 18%, respectively, compared to the last quarterly production period of Q2 2020.
Increase in copper recovery rates from the Avino Mine: Copper recovery rose to 94% from 90%, and metal grades across the board where higher when compared to the last quarterly production period of Q2 2020.
In addition, the construction of Tailings Storage Facility #2 (TSF#2) has been progressing well. Click HERE to see pictures. 
Avino Production Highlights for Q3 2021 (Compared to Q2 2020 – most recent quarter of production)
Silver equivalent production increased 70% to 269,680 ounces*
Copper production increased by 46% to 672,951 lbs
Silver production increased by 36% to 68,599 oz
Gold production increased by 179% to 1,125 oz
2021 Second Quarter Highlights
During the second quarter, the Company focused on the steps necessary for resumption of operations.  These included hiring mine workers, upgrades to improve recoveries at the mill, testing of the mill circuits, and clean-up of equipment, grounds, and facilities.
During Q2, there was limited production mining activities as the mill circuits were being tested for ongoing preparations for resumption of operational activties.
Initial drill results from our ongoing 2021 drill program were released on July 15, 2021. As of August 11, (the date the Q2 financials were released) 9,200 metres of drilling were completed across the property at various targets. 
2021 First Quarter Highlights
During the first quarter preparations for the re-commencement of production and the 2021 drill program remained the focus. The objectives of the drill program are to locate new mineralized zones within the property and to confirm continuity of mineralization in the current Avino ET production area.  As at the end of Q1, we had completed 3,763 metres of drilling and are currently waiting for full assay results to be recieved. 
During Q1, no production mining activities took place due to the work stoppage at the Avino mine.  Transitional efforts underway to restart production and mining operations.
Operations - 2020
The silver equivalent production in Q2 was directly impacted by the temporary mine shutdown due to Covid-19. As a result of the temporary shutdown due to COVID-19, all production results in Q2 2020 were lower than anticipated compared to Q2 2019. In addition, all production for the quarter came from the Avino Mine only. Silver equivalent production in Q2 2020 decreased by 56% compared to Q2 2019.  Copper production decreased by 54%, with silver and gold production decreased by 52 and 50%, respectively. This was offset by higher than planned grades, as well as higher recovery rates as a result of the grade increase and metallurgical improvements.  
The Mexican Federal Government authorized the resumption of mining activities as of June 1, 2020, for municipalities that present low or no known cases of COVID-19, subject to criteria defined by the Secretariat of Health. The Company announced that it received acceptance by the Secretariat of Health and was  granted approval to recommence regular production mining activities in an orderly, gradual and cautious manner.
In July, 2020, as the Company was commencing the ramp up of production, members from the Mexican mining union blocked the entrance to the Avino Mine. The group included the Company's unionized workers.  As a result of the strike at the site, the Company temporarily halted mining and mill processing operations.
The 12-week strike came to a successful resolution in October, 2020, however, due to an extended period of inactivity at the mine a comprehensive evaluation of all underground, milling and surface equipment is being conducted to ensure all are in excellent working condition.  
Avino continues to move forward with the proposed dry-stack, tailings storage facility ("TSF#2"), as mentioned in the Company's news release dated February 10, 2020.  TSF#2 is on privately owned Avino land, is permitted, and is currently in the final stage prior to commencing construction.  
Production was also impacted during Q3 2020 with no mining activities taking place due to the work stoppage at the Avino Mine.
Resource Estimates
In January, 2021, Avino announced the results of an updated resource estimate for the Avino property. The updated estimate includes the Property's Avino Mine (Elena Tolosa ("ET") vein systems, the San Gonzalo Mine, and the Property's Oxide Tailings. The mineral resources estimate has been included in an updated technical report prepared by Tetra Tech Inc. under National Instrument 43-101 ("NI-43-101"), which will be available on SEDAR (www.sedar.com) under the Company's profile and filed on Form 6-K with the SEC within 45 days. For More information see Avino's press release dated January 13, 2021.
Why is the Avino Property so unique?                                                                                                                                                       
There are 20 named veins on the property
Over 50 additional veins on the property
On the edge of a caldera
Structurally controlled
Multiple conduits for mineralization
Geological window of exposed older host rocks
Composite vein sets with different composition
Bulk veins, narrow vein, gold, silver and copper
An abundance of potential exploration targets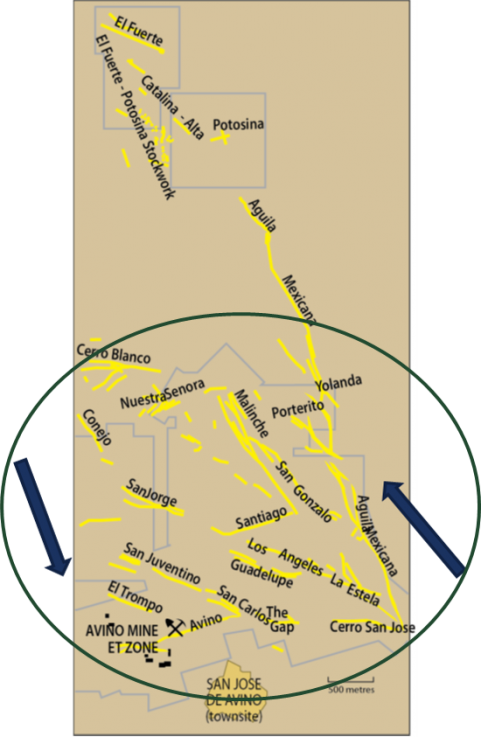 Exploration - 2021 Drill Program
In March, the Company announced that it was implementing a fully-funded increase in the 2021 drill program from 12,000 to 30,600 metres as approved by Avino's Board of Directors.
Phase 1 is focused on the El Trompo Vein, the Santiago Vein, the Avino ET area (below Level 17) and Avino West (below Levels 9 & 17).
Phase 2 will focus on high-grade, narrow-vein mineralized systems similar to the previously-mined San Gonzalo system.
One vein that is of interest and another potential high-grade target is the La Malinche vein, which will be tested as part of Phase 2. It is similar in style to the San Gonzalo vein, in that it is a low-sulphidation epithermal vein. It is possible that this vein is the northwestern extension of the San Gonzalo vein that may have been dislocated. More exploration work is needed to confirm this theory and broaden our understanding of the system, and Phase 2 is the beginning of this process.
With the updated budget, Avino is now drilling the existing oxide tailings resource that sits within our tailings storage facility #1 ("TSF#1"). In 2017, Avino released an encouraging Preliminary Economic Assessment ("PEA"), which can be found on Avino's profile on SEDAR. One of the recommendations from the PEA was to perform additional surface drilling to increase the confidence level of the resource. This would be done in anticipation on commencing a Pre-Feasibility Study ("PFS"). Avino is currently proceeding with the recommended drilling with the intention of making a decision to proceed with a PFS later in the year.
Exploration - 2020 Outlook
Due to Covid-19 and the 12 week strike in 2020, the Company put its exploration program on hold. 
During 2020, the Company had planned to spend $1.5 million drilling 11,500 metres at the Avino mine property and would have targeted the areas of Avino and the Santiago Vein. Exploration targets may not have been limited to these areas, and during the year the priority targets may have changed if geological interpretations on other areas present enhanced opportunity. We plan to provide detailed information on our exploration targets in the coming months.
Historic near-to-surface mining on the property has left many clues as to where mineralization hot spots are located. Using modern technology to integrate, manage and interpret more than 80 km of Induced Polarization (IP) Geophysics, 1,500 soil samples, satellite imagery, data from ongoing drilling and historic data, the company will seek to define new high potential targets that were not visible or accessible in the past.
Avino owns both a surface and underground drill and conducts the drilling internally. The surface LY-44 drill was recently fully rehabilitated with replacement components to make it more powerful; it now has a capacity of 800 metres using an NQ drill hole diameter.
In 2019, we announced the results from a sampling campaign comprising 52 recent and historic holes that were previously drilled in the hanging-wall of the Avino vein stockwork system located on the Avino property. The relogging and sampling by the mine geology team of intervals previously regarded as not of economic interest has revealed extensive Hanging-wall Breccia ("HWB") material with significant and consistent metal grades and wide vein widths. Please see Avino's press release dated July 23, 2019.
In 2018, Avino released results from a drill program targeting the Chirumbo, Guadelupe and San Juventino areas which showed grade continuity and further extension of the main Avino vein to the northeast, and also demonstrated additional mineralization between the current areas at Elena Tolosa and the San Gonzalo mine (for detailed results, please see Avino's press releases dated February 6, 2018 and July 11 2018).
In addition, 11 holes were drilled from the Avino Open Pit Mine Area from surface into the footwall and hanging wall to the main Avino vein, showing a range of gold, silver and copper grades at different widths (for detailed results please see Avino's press release dated December 4, 2018)
Qualified Person(s)
Avino's Mexican projects are under the supervision of Peter Latta, P.Eng, MBA, Avino's VP Technical Services who is a qualified person within the context of National Instrument 43-101 and has reviewed and approved the technical data herein.
Under National Instrument 43-101, the Company is required to disclose that it has not based its production decisions on NI 43-101-compliant reserve estimates, preliminary economic assessments, or feasibility studies, and historically projects without such reports have increased uncertainty and risk of economic viability. The Company's decision to place a mine into operation at levels intended by management, expand a mine, make other production-related decisions, or otherwise carry out mining and processing operations is largely based on internal non-public Company data, and on reports based on exploration and mining work by the Company and by geologists and engineers engaged by the Company. The results of this work are evident in the Company's discovery of the San Gonzalo resource, and in the Company's record of mineral production and financial returns since operations at levels intended by management commenced at the San Gonzalo Mine in 2012. This approach is being applied for the advancement of the Avino Mine project, for which similar risks and uncertainties have been identified.