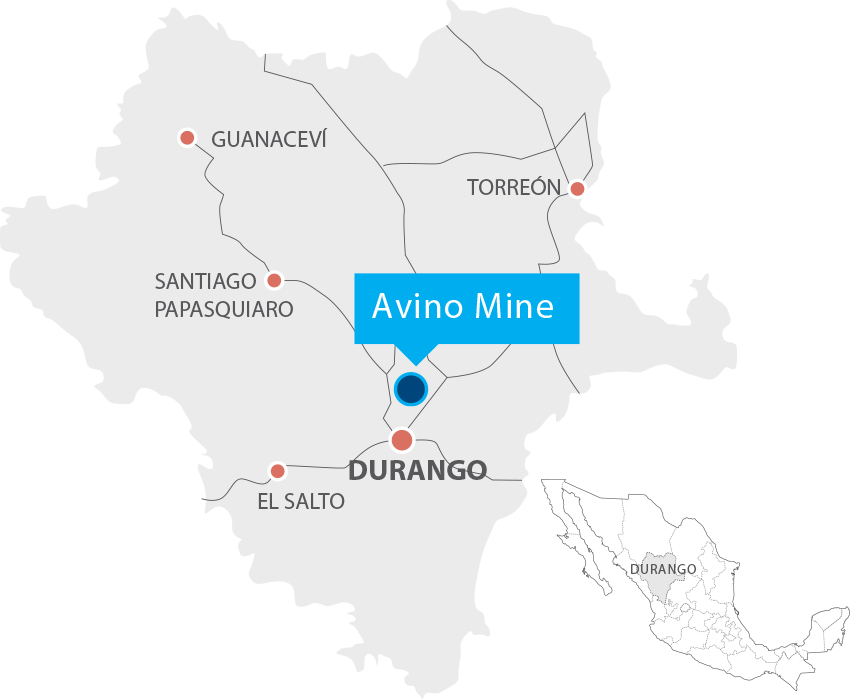 The Avino Vein was mined during the 27 years of open pit and underground production prior to 2001. It is 1.6 km long and 60 m wide on the surface and is situated right next to the processing plant. The deepest level mined prior to 2001 was level 11.5 (330 m below the surface). The mine was closed in November 2001 due to low metal prices (Silver US$4.37/oz, Gold US$283/oz, Copper US$0.65/lb) and the closure of a key smelter. From 1997 - 2001, the mine and mill, averaged 1,000 tpd and achieved up to 1,300 tpd. During the final 3 full years of operation, production averaged 1.7 million ounces of silver equivalent annually. For more on the history of the Avino Mine click here.
Operations
Following several years of redevelopment, the Company completed its Avino Mine and mill expansion in Q4 2014. Full scale operations commenced January 1, 2015, and commercial production was declared effective April 1, 2016 following a 19-month advancement and test period. Operations are ongoing. Comparative production figures are presented below:
|   | 2016 | 2017 |
| --- | --- | --- |
| Tonnes Milled | 450,281 | 462,279 |
| Feed Grade Silver (g/t) | 67 | 64 |
| Feed Grade Gold (g/t) | 0.42 | 0.516 |
| Feed Grade Copper (%) | 0.50 | 0.484 |
| Recovery Silver (%) | 87% | 85% |
| Recovery Gold (%) | 64% | 69% |
| Recovery Copper (%) | 90% | 89% |
| Total Silver Produced (oz) | 789,372 | 803,438 |
| Total Gold Produced (oz) | 3,691 | 5,259 |
| Total Copper Produced (Lbs) | 4,206,585 | 4,373,166 |
| Total Silver Equivalent1 Produced (oz) | 1,606,272 | 1,911,428 |
| All in Sustaining Cash Cost2 per oz Ag Eq.($CAD) | $14.56 | N/A |
| All in Sustaining Cash Cost2 per oz Ag Eq.($USD) | $10.99 | N/A |
1Metal Production is expressed in terms of silver equivalent ounces, (oz Ag Eq.), the formula for which depends on the gold and silver metal prices used in each year and hence are only indicative.
2 The Company reports non-IFRS measures which include cash cost per silver equivalent ounce, all-in sustaining cash cost per ounce, and cash flow per share. These measures are widely used in the mining industry as a benchmark for performance, but do not have a standardized meaning and the calculation methods may differ from methods used by other companies with similar reported measures.
Under National Instrument 43-101, the Company is required to disclose that it has not based its production decisions on NI 43-101-compliant reserve estimates, preliminary economic assessments, or feasibility studies, and historically projects without such reports have increased uncertainty and risk of economic viability. The Company's decision to place a mine into operation at levels intended by management, expand a mine, make other production-related decisions, or otherwise carry out mining and processing operations is largely based on internal non-public Company data, and on reports based on exploration and mining work by the Company and by geologists and engineers engaged by the Company. The results of this work are evident in the Company's discovery of the San Gonzalo resource, and in the Company's record of mineral production and financial returns since operations at levels intended by management commenced at the San Gonzalo Mine in 2012. This approach is being applied for the advancement of the Avino Mine project, for which similar risks and uncertainties have been identified.