Corporate Social Responsibility in Mexico
Improving Communities with an Open Door and a Helping Hand
One of Avino's top priorities is to provide support to the communities in which we operate. Over the next few years we plan to adopt an inclusive ESG (Environmental, Social, and Governance) strategy and embrace a stronger social responsibility.
We will endeavor to set environmental and social performance objectives that are relevant and that will result in tangible actions. Our goal is to respect our investors' objectives and provide even greater attention to our communities and their needs.
Our ESG Initiatives
April 2021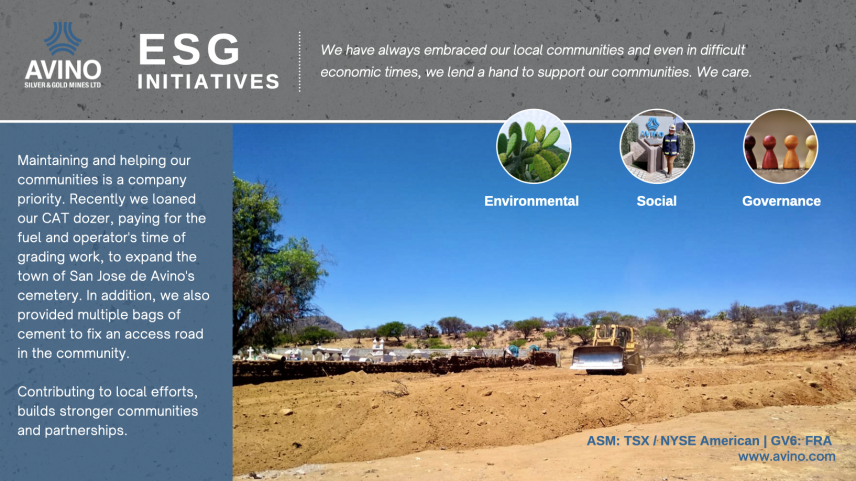 April 2020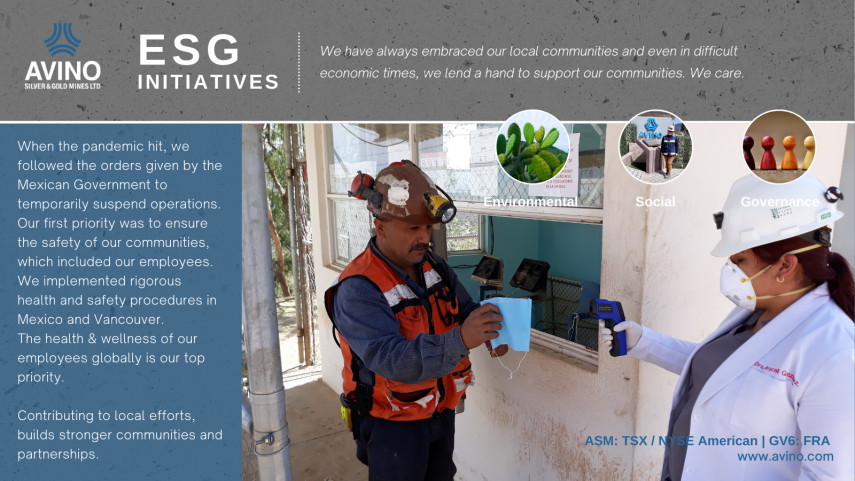 Current Key Initiatives:
Water infrastructure
Regional power capacity improvements
Road improvements
School and activities funding
Garbage site cleanup
First aid, fire safety and earthquake preparedness courses
Avino's core values are built upon relationships, community engagement, respect and transparency. Success for the company depends on the people who depend on Avino. In Mexico, we have established a new Community and Sustainability department that ensures these values are supported and enhanced for all stakeholders in the region.
Corporate Social Responsibility (CSR) is extremely important to the Company. We have a newly created CSR department at the Avino Mine site that ensures our local communities, consisting of Panuco de Coronado, San Jose de Avino, Zaragozo and Francisco I Madero have an open, simple and welcoming means of interacting with the company. Residents can voice concerns, make requests, meet staff or simply gain a better understanding of our operations.
Avino is voluntarily helping with a number of improvements in the region. We have helped deliver water to farmers, provided medical services, improved sports facilities and provided funding to schools. Most recently we helped clean up a municipal garbage site, and conducted first aid, fire safety and earthquake preparedness training for nearby communities. For the garbage clean-up, we provided machinery, a dozer operator, field helpers, fuel and meals.
We will continue responding to requests from members of the communities and providing assistance where we can. We take great pride in the important role that Avino plays in this district, which is home to approximately 11,000 people and from which we draw 80 percent of our work force. As we grow and employ more local residents, we will play a key role in community and regional improvement.