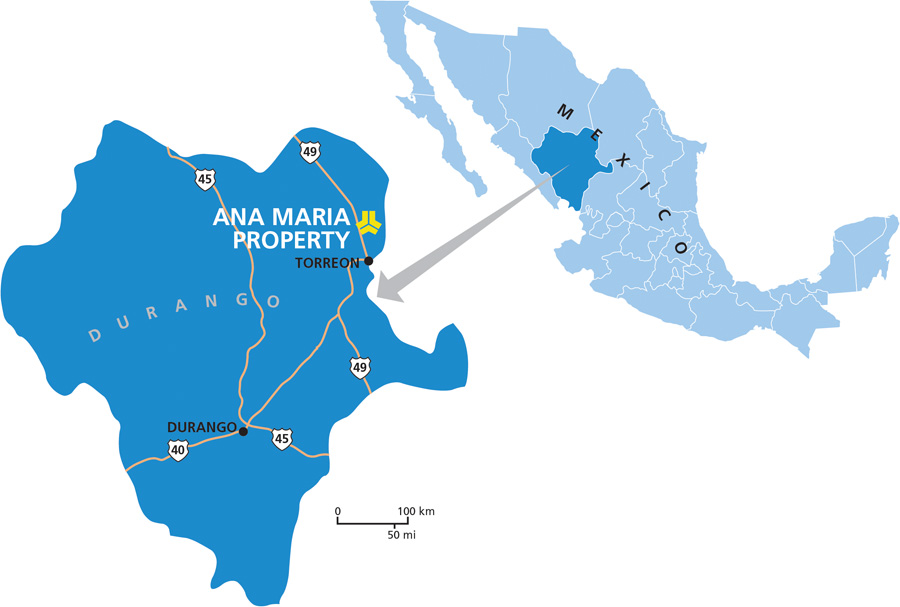 | | |
| --- | --- |
| Location | Northeast Durango State, Mexico |
| Minerals | Silver, Gold, Lead, Zinc, Iron, Manganese, Granite |
| Area | 2,545 hectares |
| Ownership | 100% |
| Status | Exploration target |
Recent Activity
In August, 2020, Avino optioned the property to Silver Wolf Exploration (formerly Gray Rock Resources). See the details in the news release dated August 13, 2020.
Overview
The Ana Maria Property is located near the town of Gomez Palacio in the Northeast corner of the Durango State in Central Mexico. The claims cover approximately 2,545 hectares within the prolific Mexican Carbonate Replacement Belt ("CRD") 20 km south of Excellon Resources Inc.'s La Platosa mine, the highest grade silver producer in Mexico, and 12 km southeast of the historic La Ojuela zinc-lead-silver mine.
The Ana Maria property encompasses the past producing La Zori gold-iron mine and is located within a volcanic caldera. Mineralization at La Zori occurs within hematite - manganese breccias and veins near the contact of Cretaceous limestone-marble with a 10 km circular body of Tertiary coarse grained granodiorite.
Potential exists on the property for CRD type silver-lead-zinc and possibly carbonate hosted iron-zinc-lead-(silver) oxide mineralization, and gold-silver veins in the intrusion, as well as iron, manganese and granite.
CRDs are epigenetic, intrusion-related, high-temperature, sulphide-dominant, lead-zinc-silver-copper-gold-rich deposits that commonly occur in clusters associated with major regional geologic features. The Mexican CRD Belt is considered to be one of the world's best developed CRD clusters.
Qualified Person(s)
Avino's projects are under the supervision of Mr. Peter Latta, P.Eng, MBA, Avino's VP Technical Services, who is a qualified person within the context of National Instrument 43-101. Mr. Latta has reviewed and approved the technical data herein.