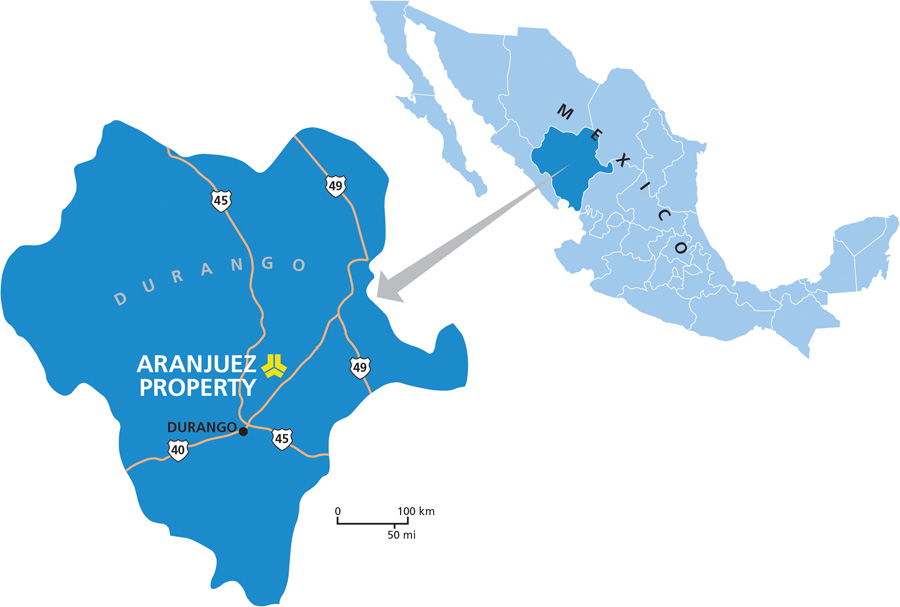 | | |
| --- | --- |
| Location | Central Durango State, Mexico |
| Minerals | Silver & Gold |
| Area | 370 acres |
| Ownership | 100% |
| Status | Exploration target |
Overview
The Aranjuez property is located 6 km west of the Avino Mine and approximately 2 km north of the Santa Monica property, formerly of Orko Silver Corp.
In the 1990's, prospectors from Avino discovered gold-silver bearing epithermal float boulders in the area. This discovery was followed up with further exploration in 2001 where it was determined that a magnetic anomaly with a similar signature to the Avino Mine extended westerly across the property. Between 2006 and 2014 a detailed soil grid was completed over the property using a mechanized auger; results were inconclusive.
A program of grid deep auger or RAB drilling is recommended to sample the bedrock interface in order to identify the source area of the epithermal float.
Qualified Person(s)
Avino's projects are under the supervision of Mr. Jasman Yee, P.Eng, Avino director, who is a qualified person within the context of National Instrument 43-101. Mr. Yee has reviewed and approved the technical data herein.