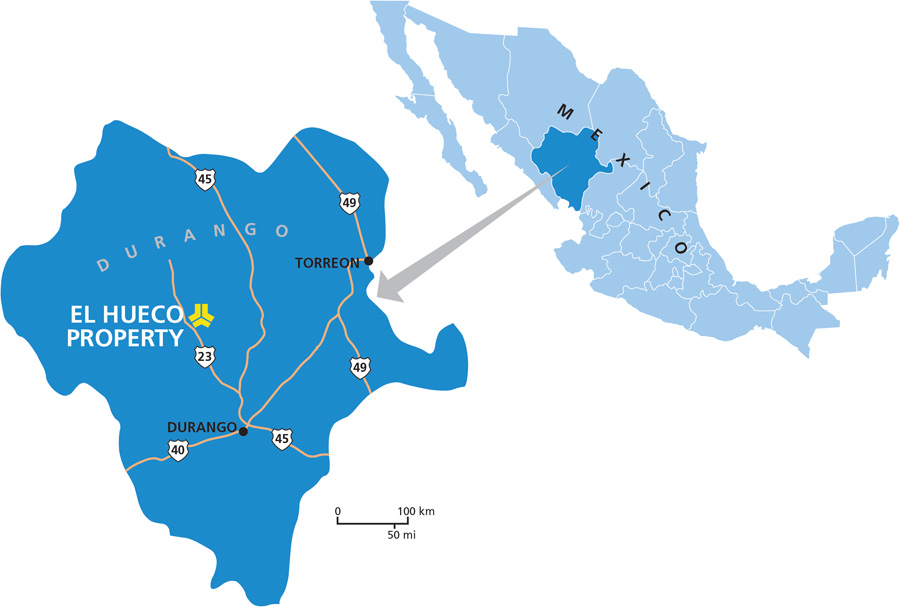 | | |
| --- | --- |
| Location | West-Central Durango State, Mexico |
| Minerals | Silver & Gold |
| Area | 1,312 acres |
| Ownership | 100% |
| Status | Exploration target |
Overview
The El Hueco property is located within the Sierra San Francisco, near the township of Santiago Papasquiaro. The property lies approximately 30 km south-southwest of Silver Standard's Pitarilla project which has reported Probable Mineral Reserves of 479 million ounces of silver, 1,014 million pounds of lead at a grade of 0.29% and 2,722 million pounds of zinc at a grade of 0.79%.
Other exploration in the area has also yielded significant results. Drilling at Santo Nino to the west yielded results of 20.6 g/t Au & 68 g/t Ag over 0.25m and Bellavista to the east generated assays of 4.65 g/t Au & 68 g/t Ag over 0.25m. The Bellavista vein is reported to be about 1200m long, and 0.15 to 2.0m wide, with vein width in ore shoots averaging about 0.80m. The Bellavista system, part of the Santiago Gold Project, lies just southwest of El Hueco.
Another silver-gold occurrence known as the Promontorio Project, lies 6 km northwest of El Hueco , which includes silver mines from the turn of the century (about 1888 to 1946). The Promontorio Project covers an extensive vein system with the two main veins, Promontorio and Pericos, having an estimated historic production of 250,000 tonnes of 3,500 g/t silver and 20 g/t gold. Total production from the Promontorio Mining District is estimated at 1.2 million tonnes of 2,500 g/t silver and 2 g/t gold over a length of 810m.
An initial evaluation of the size and grade of veins and overall geological setting at El Hueco is recommended by detailed prospecting; select chip sampling and reconnaissance mapping based on its proximity to the high grade veins at Promontorio, and local high grades within the La Perla-Bellavista zone.
Qualified Person(s)
Avino's projects are under the supervision of Mr. Peter Latta, P.Eng, MBA, Avino director, who is a qualified person within the context of National Instrument 43-101. Mr. Latta has reviewed and approved the technical data herein.