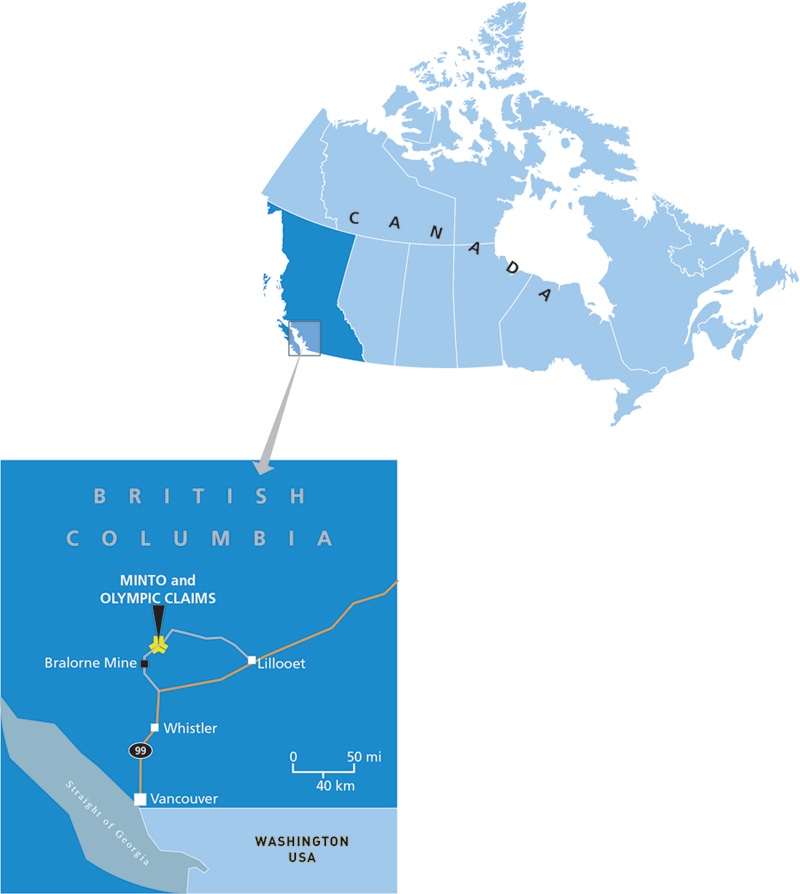 | | |
| --- | --- |
| Location | Bralorne Region, British Columbia |
| Area | 662 hectares (1600 acres) |
| Minerals | Silver, gold |
| Ownership | 100% |
| Status | Not active |
Overview
The Olympic-Kelvin Property is located on the south side of Carpenter Lake, five kilometres northeast of Goldbridge in the Lillooet Mining Division, British Columbia. The property is easily accessible by all-weather, publicly-maintained roads. The property is close in proximity to the Bralorne Gold Project, which was acquired by Talisker Resources in 2019.
Execution of Option & Royalty Agreement for the Olympic Claims with Endurance Gold
Further to the Company's announcement on May 2, 2022, and in line with its strategic plans to become an intermediate producer in Mexico, an option and royalty agreement (together, the "Agreements") for Endurance Gold ("Endurance") to earn a 100% ownership in the former Minto Gold Mine, Olympic and Kelvin gold prospects contained within a parcel of crown grants and mineral claims in BC (together, the "Olympic Claims") has now been finalized.
The Olympic Claims are located on the north and south shores of BC Hydro's Carpenter Lake Reservoir in the Bridge River Valley, east of the Royal Shear trend.
Under the terms of the Agreements, Endurance can earn a 100% interest in the Olympic Claims for:
A total cash consideration in the aggregate amount of $100,000 ($10,000 already paid);
The allotment and issuance of up to a total of 1,500,000 common shares ('Shares') of the Company (100,000 Shares already issued); and
Exploration expenditures in the aggregate amount of $300,000.
All to be incurred by December 31, 2024.
A payment of 100,000 Shares and $15,000 cash is due on or before December 31, 2022.
On vesting its ownership interest, the Olympic Claims will be subject to a 2% net smelter return royalty ("NSR"), of which 1% NSR can be purchased by Endurance for $750,000 and the remaining balance of the NSR can be purchased for $1,000,000.
As part of the final requirement to earn its interest, Endurance has agreed to grant to Avino 750,000 share purchase warrants ("Warrants") by December 31, 2024, that offer Avino the option to purchase additional shares in the Company for a period of three years from the date of issuance. The exercise price of the Warrants will be set at a 25% premium to the 20-day Volume Weighted Average Price share price at the issuance date. During the Option, if Endurance is successful in defining a compliant mineral resource of at least 500,000 gold-equivalent ounces on the Olympic Claims then Endurance will be obliged to pay Avino a $1,000,000 discovery bonus.
The original letter agreement was accepted by the TSX Venture Exchange in May 2022, and the terms accepted at the time remain unchanged. Any Shares or Warrants to be issued will be subject to a four-month hold period on issuance as per the policies of the TSX Venture Exchange. All dollar amounts in the Agreements refer to Canadian dollars.
Click on the link to veiw a 2004 report on diamond drilling Technical Report (PDF. 25 Kb).